Quotes, reviews,
& feature stories
about Busara Road
"In his authentic and haunting first novel, Busara Road, David Sanders captures the turbulent early days of newly-independent Kenya through the eyes of eleven-year-old Mark Morgan, the sensitive and inquisitive son of a widowed Quaker missionary. Set in the aftermath of the brutal conflict between colonial British forces and the Mau Mau rebels, the novel navigates the jungle of grief and hope that is a community emerging from years of violence, as well as the suffering of those set upon avenging past atrocities. Sanders creates characters who are memorable, distinctive, multi-dimensional and indelibly true. In the spirit of the best of Norman Rush and Barbara Kingsolver, Busara Road is a Bildungsroman of insight and compassion from an author who has mastered both the substance and the emotion of his subject matter. A riveting tour de force, the novel will appeal to anyone who has ever been eleven years old and at sea in the world. Busara Road leads readers both into the African past and into the depths of the human spirit—it is a road not to be missed." —Jacob M. Appel, author of Millard Salter's Last Day
"Reading Busara Road is like having your hair cut by a one-armed man who may be a murderer—you're afraid of what might happen next, but you're certainly not going anywhere, and you're excited to find yourself amid a mystery. That very haircut, and a flash of a white shirt against a green jungle, the calls and grunts of unseen animals in the dense foliage, a thick leaf wrapped around a wounded arm with a vine, birds and fish swimming and flying: reading this novel, I was caught in so many vivid images, so many sharp sensations as I was borne along through Kenya's history and quotidian features, traveling with eleven-year-old Mark Morgan as he shapes his own story. Mark's path ultimately illuminates what has been so tantalizing and unclear in the rich, hidden world around him; the perfect guide, he is guileless and yet awake, often left alone, always eager to pursue new experiences and sensations." —Peter Rock, author of My Abandonment
"Brimming with mystery, magic, emotional truth and wide-eyed adolescent wonder, Busara Road compels the reader on a vivid and engrossing adventure marked by discovery, duality and bursts of lyrical beauty." —Tracy DeBrincat, author of Hollywood Buckaroo and Troglodyte
"Eleven-year-old Mark Morgan and his father move from Philadelphia to a Quaker mission in western Kenya shortly after the new nation's brutal struggle for independence. With his father mostly away, Mark lives among the deeply wounded survivors, struggling to forge connections in a place where not heeding one's elders can have grave consequences. A strong, vivid debut set in an unforgettable place and time." —Janet Benton, author of Lilli de Jong
"David H. Sanders, a gifted writer of fiction and a child of missionaries, transmutes his personal experience into a novel that stands alongside The Poisonwood Bible." —Joy E. Stocke, co-founder of Wild River Review
"Busara Road is a beautifully written, slow-burning drama that touches on devastation and collective memory, culminating in the piercing discovery that knowing the truth comes at a personal cost." —Karen Rigby, Foreword Reviews
__________________________________________________________________________________
Busara Road has been named "Quaker Books Pick" by Friends General Conference.
Here's a link:
__________________________________________________________________________________

Busara Road
Review appeared in
HNR Issue 88 (May 2019)
Soon after the death of his mother, 11-year-old Mark Morgan relocates with his father, Reece, from Philadelphia to Kwetu Quaker Mission in Kenya. Distant from his father because of grief and Reece's travel and work schedule, Mark must fend for himself in an environment of red dust and shimmering green jungle, screeching birds and bleating goats, smells of dung and smoke and sweat.
Mark makes new friends at the mission school – storyteller Raymond (Radio), ruffian Darrell, and emotionally scarred and mercurial Layla. He takes a job at the post office/general store/barber and auto repair shop Industrial Center, and learns the dangers of the still waters of Mwezi, the subtleties of bargaining for goat's milk, the meaning of the scrape of the rhinoceros, and the characteristics of his spirit animal, the leopard, from houseman/cook Chege.
Mark's story is one of adventure and discovery, friendship and enmity. His education moves beyond books and blackboards to recent Kenyan history: the remains of the Kazi camp of huts and torture pits where Radio was born and spent the first six years of his life, the actions of Kenyan Home Guard loyal to British colonial rule, and freedom fighter Mau Mau during the Kenyan Emergency of the 1960s.
Mark experiences the warmth and exuberance of Kenyan family and friends as they celebrate Jamhuri Independence Day and witnesses the flash of retribution exacted on an oppressor. His time on Busara Road is an awakening not only for him, but for readers as well.
________________________________________________________________________________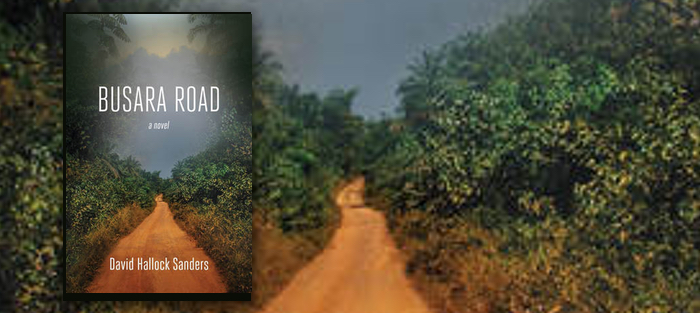 Busara Road
by David Hallock Sanders
"The author has said that Busara means 'wisdom, insight, and common sense' in Swahili and that the Busara Road is 'Mark's own path to wisdom and insight'": Ellen Prentiss Campell on Busara Road, by David Hallock Sanders.
David Hallock Sanders' debut novel, Busara Road (New Door Books), is a coming-of-age story set in Kenya in 1966, told from the point of view of eleven-year-old Mark, a Quaker from Philadelphia. The boy first observes and later participates in dramatic events in the small Quaker mission village of Kwetu on the Busara Road. Trauma marks both Kenya's past and Mark's recent experience. The boy is an uprooted only child whose mother has died after a long illness and whose father has chosen to move the two of them to a Quaker educational mission at Kwege—despite continuing intra-Kenyan hostilities and some hostility toward Western outsiders.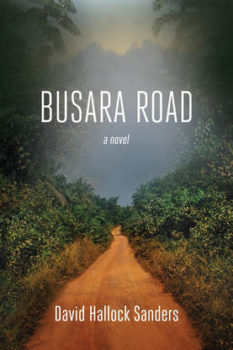 As a boy, the author lived on a Quaker educational mission in Kenya with his parents and siblings. Speaking with his publisher, he said the novel grew out of his interest in "exploring the experience of a young person coming of age in a nation that is coming of age itself." Like his protagonist, the author was "young enough to be embraced as a child and be given access to aspects of local life not available to adults." But also like Mark, he was ignorant of the country's history: "the atrocities of the British Emergency and the cruel conditions of colonial control," as well as Kenya's "long and bloody fight for self-determination."
Limited knowledge, understanding, and perspective are among the inherent challenges for a novelist employing a child's point of view, especially in historical fiction. It is additionally challenging, even risky, to draw closely on personal childhood experience. After all, "what happened" doesn't necessarily lend itself to the arc of story. Yet Sanders successfully navigates these challenges, in part by using memory as inspiration and jumping off point, exposing Mark "more directly to the dark repercussions" of Kenya's past than he was himself during his much more secure childhood sojourn.
This dramatization is evident from the beginning of the novel, when Mark witnesses a scene on his first afternoon in Kwetu that will foreshadow mystery and violence to come. Sanders writes:
A bare bulb hung from the ceiling. Its harsh light revealed two African men. One of them sat on a wooden chair…He wore a shirt decorated with circles of color that exploded like fireworks…The standing man wore a short-sleeved khaki shirt that revealed a stump of flesh hanging where his right arm should be. He gripped something that caught the light—a straight razor…With a single flourish, he swiped the razor across the other man's throat.
At this point, neither Mark nor the reader realizes that this startling inter-personal episode also reflects the historical and cultural context of current Kwege. However, over the course of the novel, Mark learns something of Kenya's colonial legacy and recent past, piecing together information most often provided—and filtered—by the family's cook, Chege, who has his own shadowy backstory. In this same fragmentary manner, the reader learns alongside Mark as he comes to slowly understand (however incompletely) the way history inflects the present moment. Here, for example is an introductory toast from the Independence Day dinner—a social occasion which shortly afterward devolves into argument over the past:
Dr. Mathenge lifted his glass once more. 'To our young nation. To our esteemed liberator and president, Mzee Kenyatta. To all who have suffered and died for our independence. To land and freedom. Ithaka na wiyathi…"
Mark is confused, overwhelmed, and fascinated by Kwege, a community of aspirant Kenyan and Western Quakers with limited resources and sometimes divisive beliefs but a shared zeal for education. He plunges into the pre-teen struggle to be accepted, to make friends, to understand kinship and friendship systems—in a complicated multi-racial and multi-cultural foreign milieu. The cook Chege becomes his caretaker as his father increasingly travels on mission business. Chege teaches Mark something of the rules and history of the community, but often seems secretive to Mark. The reader increasingly understands Chege's urge to protect Mark from knowing too much. Indeed, one of the pleasures of a story told from an immersive child point of view is sometimes being more aware of Mark's danger than he is himself.
"My mother used to say "Fuata nyuki ule asli." Follow bees and you will get honey. But that means nothing to these young people…they just go to the shops and buy things."

"But how did you learn so much about the jungle…the Mau Mau lived in the forest. Were you Mau Mau?"

Chege stared into the trees for a long moment.

"That is not a good question to ask."
Similarly, the stakes of the novel are elevated in part by the tension between the risks that Mark is facing and his awareness of those risks. His father away, and Chege preoccupied, Mark runs a bit wild with a group of Kenyan and American peers. He and his friends range freely after school hours and he becomes involved with a troubled Kenyan girl, gradually learning a little of what she suffered physically and emotionally during conflict between the Mau-Mau and Kikuyu. The culmination of this trajectory Mark is on will lead to a dramatic and dangerous climax, one that his father will  recognize almost too late, bringing about a sudden end to the novel.
It's a conclusion that some readers may wish were further developed. Yet despite its abruptness, the conclusion is perhaps consistent with the author's choice to tell a story as experienced by a child. The author has said that Busara means "wisdom, insight, and common sense" in Swahili and that the Busara Road is "Mark's own path to wisdom and insight." But only to a point. For while Mark's understanding may have deepened over the months, he remains only a wiser child, not an adult, by story's end. Self-determination is a long process, for nations and for people. The author's unmediated immersion in Mark's point of view similarly captures the way a child feels like a token moved from square to square on the adult's game board. The author's conclusion—despite but also because of its abruptness—thus rings true to a child's experience. Mark is, after all, a child with a child's limits to agency and self-determination, even if he is rapidly careening along the continuum from innocence to experience, childhood to adulthood.
________________________________________________________________________________
Noli Irritare Leones
Posted on April 22nd, 2019
Busara Road, by David Hallock Sanders, is a Bildungsroman whose themes range from grief to sexual awakening to the aftermath of colonialism.
In the wake of the death of his mother, 11-year-old Mark Morgan is uprooted from Philadelphia to a small town in the rain forest of western Kenya, as his father seeks to bury his grief in Quaker missionary work. Initially unhappy about the move and scared of his new neighbors, Mark comes to develop a deep love for his new home and his Kikuyu and Luo neighbors.
The book displays a variety of Quaker characters (Quakerism in Kenya proves different from Quakerism in Philadelphia!) who both display serious flaws and sincere devotion to their faith. Also varied are the villagers Mark encounters in his new home, who range from devout to possibly atheist, and who are sharply divided in their response to the aftermath of colonialism. It is this violent colonial past and the continuing impact of the wrongs done during that time that drives much of the plot of the book, as Mark grows in his understanding and appreciation of his new home.
________________________________________________________________________________
Queen Village resident pens first novel inspired by Kenyan experience
Queen Village resident and writer David Sanders penned his first novel, "Busara Road," which is loosely based off his childhood living in a Quaker village in Kenya. (GRACE MAIORANO/South Philly Review)
At the age of 9, Queen Village resident and writer David Sanders was enjoying an ordinary family dinner when his father, a Quaker educator, announced to his wife and children that they'd all soon be relocating from Pasadena, California to Western Kenya.
Sanders' parents, who had established an alternative Quaker school in a quonset hut on a five-acre orange grove in Southern California, were moving their mission work to the rural village of Kaimosi in the mid-1960s.
For a year-and-a-half, Sanders spent his youth swinging on vines, wandering rainforests and munching on roasted maize, seeking his own preadolescent introspection while the country of Kenya itself was, too, searching for an identity in the shadow of gaining independence from British rule.
More than 50 years later, Sanders, a graduate of the New College of California and Harvard University who holds a plethora of experience in communications, publishing and education administration, has harnessed that particular identity parallel and used it as the basis for his first full-length novel, "Busara Road," which will be released by local publisher New Door Books in April.
"I was just the perfect age, I think, to be a kid in Kenya," Sanders said. "Because I was old enough to really have an awareness of where I was and what was happening and to still have a lot of memories, just really profound memories now…Memories of that have been really profound and have kind of shaped me to really a big extent throughout my life."
Noting that the book is not biographical, Sanders said the 280-page narrative follows the story of 11-year-old Mark Morgan as he starts a new life with his father at the Kwetu Quaker Mission in 1966 after the death of his mother.
Sanders, who's had short fiction, essays and plays published in journals and anthologies, says some form of this story has been bouncing around in his brain since 2000. Originally, the piece started as a short story, and then a grew to a 700-page saga. At one point, the narrative even manifested into a screenplay, which shortlisted Sanders as a finalist for the William Faulkner–William Wisdom Prize for a novel-in-progress.
Eventually, though, the novel found its current form.
"The underlying feel of it… even though, a lot of these things didn't take fruit of themselves, they taught me a lot about what I was trying to do with the core novel and they really helped me get it into this final shape," Sanders said.
Evolving through various drafts for two decades, Sanders carefully chose to set the narrative in third person past tense, allowing readers to see, smell, hear and feel the pastoral highlands of this newly established East African nation through Mark's five senses.
A significant element of the story lies in the omnipresent aftermath of the bloody Mau Mau Rebellion, which lasted from 1952 to 1960. The novel required extensive amounts of research regarding the country's complicated path toward independence, including the uprising of the Mau Mau force that formed in response to British colonial ruling.
Delving into his own past, Sanders says he has a faint recollection of these political and social corollaries in his own Kenyan experiences, but being so young, he couldn't fully grasp the scope of the matters.
"I had a sense of them as sort of this kind of unknown scary entity that lived in the rainforests and had been somehow really instrumental in the history but, as a kid there, I was just grooving on being a kid," he said.
David Sanders (front middle with a book in hand) and fellow schoolmates at the Kaimosi Mission School around 1965 or '66. The children are wearing Quaker hats and bonnets made as a school project out of construction paper. (Photo courtesy to South Philly Review)
Like Sanders, Mark, too, is not wholly aware of the current state of the nation. Setting the story in third person, then, manifests a peculiar perspective, leading audiences to read between the lines through the character's innocent – and ultimately finite – point of view.
"The challenge was also to have the reader, in a way, understand more of what was going on than this kid did," Sanders said. "So, that was a very core challenge – to convey a lot of the politics, the violence, the history in a way that the reader could gain it but in a way that the narrator couldn't just tell it."
While the book's factual material stems from research, the sensual elements draw from Sanders' memories.
Being just a child, Sanders recalls his natural inquisitiveness, as his young body and mind absorbed the sights and sounds of the Kenyan life. Along with the humidity of the rainforests and the dryness of the countryside, one sensation Sanders distinctively remembers feeling is the compassion of the Kenyan people, as they'd welcome him into their huts and prepare him meals.
"I think that has really a big effect on how I just feel very warm and open," he said. "It's been my family's ethos to be very welcoming and opening."
While Busara Road is a fictitious place, it was inspired by an actual path that weaves through the region of Kaimosi, which was heavily settled by Quakers.
Sanders has fond recollections trotting along the real-life road, reminiscing about the images of women balancing bundles of woods on their heads or young boys bringing cows to the market.
In the novel, though, Busara serves as more than a thoroughfare.
"As a metaphor for me, it feels like it becomes Mark's road to insight into his own life and into the word around him," he said. "And so much happens along the road, and it's such a vibrant thoroughfare but it's also full of danger…life has opportunity and danger at every step."
About four years ago, Sanders returned to that same road in Kenya he once ventured along, seeking supplementary research for the novel.
Returning, though, he noticed the current political turmoil of the country. For instance, in the last few years, the Islamist militant Al-Shabab movement was responsible for attacks at the Westgate shopping mall in Nairobi in 2013 and the 2015 attack on Garissa University College in northwest Kenya, according to reports by the BBC.
Sanders says, now, there is a greater sense of security in Kaimosi, which is armed with barricades and fences that did not exist when he lived there as a child.
But, he says the spirit of the Kenyan people has not been tarnished.
"For me, the bigger message, though, was still the warmth of the people and how warmly I was embraced..I hope readers will get a sense of what a really wonderful mysterious and exciting and warm and welcoming place Kenya is, can be," Sanders said. "And, to see that through Mark's eyes – to kind of appreciate the beauty, the wildness, the friendliness."
Info: "Busara Road" will be released this spring, with the official release event at Head House Books, 619 S 2nd St., on Sunday, April 7, at 5:30 p.m. The book is being published by New Door Books, and it will be released in hardcover, paperback and as an e-book. For more information or to purchase the book, visit ww.newdoorbooks.com/busara-road.html.